Good morning, good afternoon, and good evening, friends!
I have a real treat for all of you today. I had the privilege and honour to interview one of my favourite authors, C.B. Lee! C.B., or Carrie, is the author of the fantastic Not Your Sidekick and brilliant Not Your Villain. In case you've missed it, Not Your Villain released this week and I adored it – I even gush about it in my review of it here! I was thrilled when I was given the opportunity to interview Carrie. I absolutely adore her work, and this interview was a great way to engage with her work and stories even more.
I hope you all enjoy this interview – I certainly loved the answers that Carrie gave, and I hope you will too!
---
CW: I love that the Sidekick Squad series centers on heroism, and not just heroism by big superheroes, but by kids who just want to do what is right and good. What drew you into writing about superheroes? 
Carrie: I've always loved superheroes and their stories because not only were they larger than life, they also tackled a lot of great issues about identity and who you are, through the lens of having powers (or not) and trying to do good. The X-Men series also very early on tackled a lot of issues about people who were different and just were that way and were fighting for acceptance in their world. There's a very poignant scene that was brought to life beautifully in the 2000 movie, when Bobby tells his parents he's a mutant for the first time. His mother responds with, "Have you tried…not being a mutant?"
It was such a parallel to coming out and it resonated with me so much, and many comic books and fantastic media were able to interpret issues and draw parallels to them to the time. I think what draws people to these superhero characters is that they're larger than life but at the same time have human flaws and are relatable as people. Some more of my favorite comic heroes growing up were the Teen Titans– Robin, Beast Boy, Raven, Cyborg and Starfire. I loved their dynamic, their teamwork, their friendship and how they worked together to fight for justice.
I think the fun of superheroes is that they're inspiring; it's not really about the powers, but how they use them. The fantastic element is the draw, but what really keeps me writing (and reading) about superheroes are the characters themselves and their journeys.
CW: In your first book of the Sidekick Squad series, Not Your Sidekick, Jess was bisexual, Vietnamese and Chinese. What was it like to write a character that shared the same identity as you?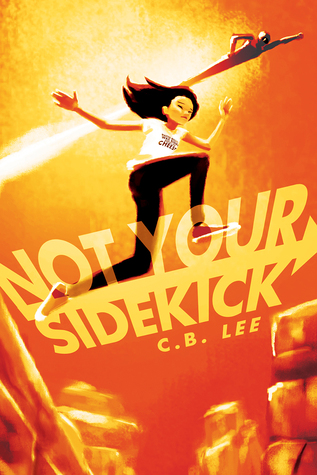 Carrie: I think in some ways it was really easy and it was also really hard, opening that door. This novel was much more personal than my first novel, in a lot of ways simply because Jess and I share a lot. When I first started writing, or trying to write seriously, many of my characters were who I thought the world wanted to read. A lot of it was internalized, how I'd grown up without seeing a lot of representation in media and I never thought someone like me could be a hero or have those adventures or romances.
When I first started Sidekick, I actually hard a hard time getting things down on paper. The initial thought I had, of a girl who couldn't fly, whose parents were heroes, it started out as a quick sketch and the idea of where I wanted to go, but Jess– who she was didn't come until I was like, oh. I see who you are. And that came with this frustration, the one scene that flowed really easily, when Jess is in the bánh mì shop and she tries to order in Vietnamese. After I wrote that, who Jess was fell into place; her feeling overshadowed by her siblings, wanting to meet her parents' expectations, and really navigating those and feeling like she didn't quite fit in anywhere.
CW: Your latest book, Not Your Villain, follows Bells, who is a black trans superhero. How did you research writing a character that is outside your own experiences? Do you have advice for writers on writing outside their identity?
Carrie: I did a lot of research and care with writing Bells, and worked with a few beta readers who gave a lot of insightful feedback throughout the writing process. It's going to be different for everyone, as far as the writing process goes, but I suggest finding people within the community and to ask for insight. There are a lot of great resources out there, and having that feedback and being open to work with the feedback and those critiques you get is helpful.
I would just to think about what kind of story you're telling and be aware of your own experiences, think in terms of writing outside your identity, as a writer, and think about what kind of story you're telling and who these characters are and how you can respectfully portray this character and their community.  I think there's a big difference between writing characters with a specific background and experience and trying to write the experience and what it means to be that person in that community.
CW: Something I love about the Sidekick Squad series is that it's set in a post-apocalyptic world where humanity has adapted following the aftermath of a catastrophic event, compared to other stories where humanity is barely coping. Is there a reason why you chose to depict and envision a relatively optimistic future of the Sidekick Squad's world? 
Carrie: Great question! I really love post-apocalyptic stories, but time-wise, we are often thrown into the world right in the middle of the disasters when people are struggling to survive and there's a lot of chaos. I really wanted to show a future that had a lot of bright promise, something I hope to look forward to. It's not perfect, by all means, and have their own share of political conflict and shady government cover-ups about heroes and villains. But a world with clean energy and innovative technology that makes lives easier and brings people together; I think it's a future I hope will come. I think one of the underlying themes when the characters in the Sidekick universe talk about the Disasters, it's always soooo long ago. It's history. Everyone knows it, it's part of the curriculum about how countries came together and worked together to develop technology and create new alliances in a world that had vastly fewer resources after tons of catastrophes. It was fun coming up with how this world would look like, and I think we can get there.
CW: Something that I love about your books is that they are generally happy and empowering stories that are stress-free reads. Was writing with these optimistic overtones a conscious decision, and if so, why?
Carrie: Yes. Absolutely. Writing these things helps me cope with the stress of day-to-day life, and I hope that the optimism will inspire readers to enjoy this bit of time and to help them get through their day as well.
CW: What are your goals as as a writer, particularly one who has written fantastic SFF with a diversity of characters? Has there been a moment where you thought, 'right now, I am where I wanted to be'? 
Carrie: I want to continue to learn and grow. I think writing craft is always going to be a work in progress; I feel like every time I work on a project, I'm learning something new. I feel like that moment, that feeling of "I'm where I want to be" is pretty ephemeral. It's a great feeling of accomplishment, but like climbing a mountain and when you get to the top, you have this great view. And then in that view you can see all the other beautiful valleys and waterfalls and places you want to get to, and every time you get somewhere new, you see more places you want to go. I've had a lot of great opportunities and I'm really happy there are people who have enjoyed my books so far, and I would love to continue to tell more stories in different ways.
CW: What can fans of the Sidekick Squad expect in Not Your Villain and in the third installment, Not Your Backup?
Carrie: Romance! Adventure! Robots! Fast cars! And… a prom night?
CW: And just for fun, because I am a big foodie: what is a food that tastes like 'home' to you?
Carrie: There's a few dishes, but I love food so much. The first is phở, which is a Vietnamese noodle soup that is just my all time favorite comfort food. Whenever I travel and come back home, especially if I'm flying back to Los Angeles, the first place I go is to get the phở đặc biệt. Dặc biệt means the special, and usually comes with the beef broth, beef balls, rare steak, tripe, tendons, all the goodies. My mom sometimes will make the broth too, but it has to brew for forever so if she makes it it's pretty special too. Another favorite dish of mine is Hainan chicken rice, which is so simple but delicious, and also my dad's fried rice. Home to me means a lot of different dishes, so everything that is made with love means home to me.
Thank you so much for having me on your blog and for the wonderful questions!
---
C.B. Lee is a bisexual Chinese-Vietnamese American writer based in Los Angeles, California.
NOT YOUR SIDEKICK was a 2017 Lambda Literary Awards Finalist in YA/Children's Fiction and a 2017 Bisexual Book Awards Finalist in Speculative Fiction. SEVEN TEARS AT HIGH TIDE was the recipient of a Rainbow Award for Best Bisexual Fantasy Romance and also a finalist for the 2016 Bisexual Book Awards in the YA and Speculative Fiction categories.
Website | Twitter | Tumblr | Facebook | Goodreads
---
I want to thank Carrie for her time, and for answering all my questions! I absolutely enjoyed this interview, and I hope you did too.
If you aren't familiar with her work, I highly recommend them! Her work is absolutely wonderful, and if you crave some optimistic sci-fi, then you absolutely must read her books.
You can find my review of Not Your Sidekick here, and my review of Not Your Villain here.