Hi friends! How are you all today? I hope you're all reading some wonderful books.
I'm currently on semester break right now – not that it's a break, but thankfully the brief reprieve from classes means that I can get ahead with my work. I've got a lot to do this month – including a research proposal, an extended essay (and a kind I've never done before), my final dissertation paper, and a research poster! But, even though I'm busy, I'm trying to make an effort to read – I believe in the importance of taking breaks and reading is my way of unwinding! So, today's What I'm Reading is about me sharing with you the books that I am reading.
What I'm Reading is where, every once in awhile, I'll share and tell you all about the awesome books that I'm currently reading (and engage in not-so-subtle book-pushing), especially since I read more than one book at a time. I'll share my thoughts, who recommended this book to me or what review spurred me to pick this up, and other thoughts that spring to mind!
---
My thoughts on the books in my previous post
In my previous books, I talked about the books below; here are my thoughts!
Saints and Misfits by S.K. Ali: In the end, I thought it was a book that had fantastic 'parts' but lacked the cohesion of an excellent book. Nonetheless, I still think it's an important read as it deals with big issues and everyday problems of a biracial Muslim girl as well. So, I definitely recommend this.
Freedom Swimmer by Wai Chim: Absolutely phenomenal. This book was absolutely fantastic – emotional, important, and powerful. I can't wait to share my review of this book with you all. I can't wait to read Chim's other books – I am certain that they will be amazing!
And now, onto the books I'm currently reading!
---
MEET CUTE: SOME PEOPLE ARE DESTINED TO MEET ANTHROLOGY

Adoring this!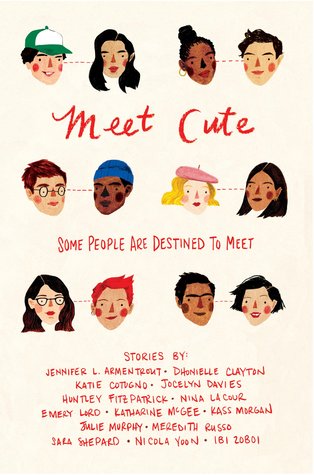 Genre: Young adult, contemporary, romance
Recommended by: No one; I discovered this book after reading the MG authors anthology, Flying Lessons and Other Stories!
What made me pick this up: Four words – young adult authors anthology! I had to read this.
Progress: 15%
My thoughts so far:
I feel like this book has invigorated my love for reading. I feel excited every time I return to this book, so… it's on its way to becoming a 4 – 5 star. (I know it's still early! I just have such a good feeling about it!)
I've read two stories so far but I've fallen head over heels with them and the concept of this book.
I thought this would all be romances, so I was pleasantly surprised to find out that they aren't all romance! Rather, this book captures moments, or a series of moments, that have some sort of significance on the protagonist's lives – whether they be turning points or the start of something new. True to its name, these stories capture meet cute's.
I cannot wait to read more. I've read the story by Katie Cotugno and Nina LaCour and I adored both.
---
HEROINE COMPLEX BY SARAH KUHN
I am… still… reading this…
Genre: Urban fantasy
Progress: page 234 of 376
My thoughts so far:
I still love this book! My slowness in finishing this isn't because it's bad – Heroine Complex is far form bad – but it's because it's a paperback and I am extraordinarily terrible at reading physical copies.
I really love Nate. I really relate to him! His whole science-statistics-data-FACTS thing is so… relatable.
I'm excited to see where this goes. I love the balance of comedy and action, and also some really genuine character development too.
---
IT'S NOT LIKE IT'S A SECRET BY MISA SUGIURA
Messy but fantastic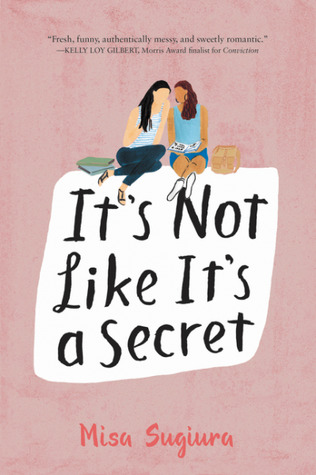 Genre: Young adult, contemporary, romance
Recommended by: I saw people talk about this on Twitter awhile back; after seeing Shenwei talk about this, I was curious.
What made me pick this up: It was one of the only audiobooks available at the library – and I need to always have an audiobook on hand.
Progress: 59%
My thoughts so far:
I was really conflicted about this book at first, because of the discussions around this book's representation and way of challenging problematic characters and their comments awhile back. I'm only at the first half – we'll see how the second half goes.
To be honest though, I am liking this book. 'Enjoying' is not a good word because this book tackles a lot of issues and problems that are very difficult to read, like racism especially when perpetuated by parents, fitting in, peer pressure, racism that cannot be challenged at times, and so on. But, I am liking that this book is tackling these things in the first place.
This book is messy — but it's a good kind of messy. I feel challenged reading this book. There are times when we can't challenge hurtful words, because of power differentials, and I think Sugiura is doing a good job so far at showing this very very very blurred line.
I'm enjoying Sana's narrative very much. I think her narrative, as a teenager trying to find a place in the world, is one of the most authentic that I've read. It's messy, filled with questions, and there are times she asks questions that I, an adult, could not even answer.
However, I've heard that this book doesn't adequately challenge the racism perpetuated towards Latinx and Mexican people – I'm aware of this and am listening carefully. I'll be sure to address this in my review.
---
And that's all so far! As you can all see, I am doing a terrible job at committing to my #TheReadingQuest reading challenge. I'm just too much of a mood reader to commit to a reading challenge, I guess. 🤷🏻 But, after I finish my current reads, I plan to finally read Queens of Geek and The Upside of Unrequited! 
Let's discuss!
So friends, what are you currently reading?
Are you enjoying the books you are reading so far? Not enjoying them so much? What are your thoughts?
What do you plan on reading once you finish your current reads?