Hello friends! I hope you all are having a restful and lovely weekend so far, and I hope you're enjoying your current reads.
#TheReadingQuest has taken the book community by storm, and I think we can all agree that this is a really exciting event (even more so for me, because video games were my life). The reading challenge is hosted by my dear friend and all-round wonderful person Aentee of Read at Midnight. If you haven't heard about it yet, be sure to visit the main post and sign up!
I volunteered to draw the character classes for this reading challenge, and I've been very honoured by all the kind and lovely comments about my art. Thank you all; I'm glad you like them! 💛
But anyway, today, I'm going to be sharing with you all my TBR (to be read) for this challenge! I think I've got some really cool books lined up, so I'm super excited. But before I tell you all what books I'm reading, I want to share my character card!

---
My Character Card!
So, my character card is a little different to everyone else's. I drew Aentee her own character class (you can see it here!), and I was given permission to have my own character class too!
As a big fan of RPG's (Final Fantasy, Dragon Age, Dishonoured, Borderlands – you name it!), I had a really hard time deciding which character to draw. I was torn between Dragoon (I love dragoons!), Hunter/Beast Tamer, but in the end, I thought I would go with something a little more representative of my role in #TheReadingQuest (and Aentee's suggestion gave me this idea too).
Presenting my character card:
My character class is a Pictomancer!
But wait CW, what's a Pictomancer? Pictomancer is a character class from Final Fantasy VI (which is an amazing Final Fantasy game, by the way). One of the playable characters in the game is a Pictomancer, and her name is Relm. She is an adorable character, albeit a little sassy, and her special power is called Sketch, which is a magic-based move that allows her to copy the attacks and abilities of her enemies. Also, she can make her paintings come to life with magic! (Wouldn't that be so cool?)
And because Relm and pictomancers use magic skills (and I always use mages when I play RPGs), I've decided to take the Mage route!
---
And now, my TBR
FIRST BOOK IN A SERIES
A Long Way To A Small and Angry Planet by Becky Chambers
Y'all can drag me for taking so long to read this. Everyone loved this book, so I added it to my tbr. Then more people liked it, so I bought it. And yet here I am: I still haven't read it. So, I aim to read this book during #TheReadingQuest! (And if I don't, I give you all permission to yell at me for not reading it.) Suffice it to say, I cannot wait to read this book.
This book will give me +10EXP, +40HP
A BOOK INSPIRED BY MYTHOLOGY
The Seafarer's Kiss by Julia Ember
I wasn't enamoured by The Tiger's Watch (but don't take my word for it; plenty of people have loved it!), but I want to give The Seafarer's Kiss a go nonetheless. This is based on Norse mythology, or so I have been told, so I'm pretty excited to read this and see what the good fuss is about!
This book will give me +20EXP, +23HP
A BOOK SET IN A DIFFERENT WORLD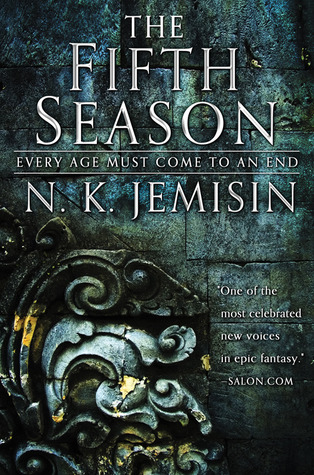 The Fifth Season by N.K. Jemisin
I've been curious to read this for a long, long time. Many reviewers and friends that I trust loved this book and series. One even called it 'the scifi I've been craving for since forever' (okay, I am paraphrasing, but the sentiment remains)! I haven't read a good fantasy in awhile (or, it feels like I haven't), so I'm really looking forward to this book. I've requested this from my library, so fingers crossed that it arrives in time!
This book will give me +20EXP, +47HP
A BOOK WITH MAGIC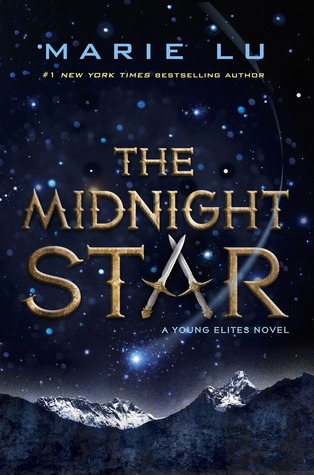 The Young Elites was okay, but The Rose Society was amazing. So amazing that, I haven't actually finished this series. I have this sitting on my bookshelf, glaring at me before I go to bed every night, so I'm going to placate it by giving it my overdue attention. I look forward to seeing how this book will conclude; I've heard good things, I've heard bad things, so I cannot wait to see how this all ends for Adelina.
This book will give me +20EXP, +32HP
ONE WORD TITLE
I've heard so much high praises for this book, so it's about time I got my act together and read it. Whilst this book is loved by many, it has also been brought to my attention that this book contains outing without consent (so if any of you are curious to read it, please look up tw's for this book)! I definitely won't be able to weigh in on the problematic issues of the book, so I'll be sure to link to reviews that highlight the book's issues. Bearing that in mind, I've been told that this book has Chinese-American rep and also poor rep as well, the latter being something I don't often see in YA. I am both tentative and excited.
This book will give me +20EXP, +40HP
---
Will I be able to finish this challenge? No clue at all, especially since I'll be busy writing up my dissertation and research between now and September, preparing for exams, and preparing to present several seminars. Ugh. But, aim for the moon and land in the exosphere, I guess?
But anyway, I hope you all have fun with #TheReadingQuest! Happy reading, everyone! 💛
Let's discuss!
Friends, are you participating in this reading challenge? If yes, share your TBR posts with me in the comments!
What character class are you playing? 😊
What book are you most excited to read for the reading challenge?
And, for fun: Do you play RPGs? What is your favourite?