Hello friends! I'm so glad it's the end of the week; I've had a pretty rough week, and am ready to leave this week behind and start a new week. I hope you all are well and as excited for the weekend as I am! (Not that I'm doing anything fun. It's all work work work for me.)
Also, I am taking a break from all my social media for awhile, which includes Twitter and Instagram. I've given my passwords to my partner, and I'll ask for them back when I feel like I'm ready to come back. I am okay. I just need to get away from it all for awhile. I'll still be updating my blog though, and, who knows, maybe I'll come back sooner than I anticipate.
To ease into, what I hope will be, a somewhat relaxing weekend, I thought I'd do a relaxing post. So, here's the second post of my What I'm Reading feature!
What I'm Reading is where, every once in awhile, I'll share and tell you all about the awesome books that I'm currently reading (and engage in not-so-subtle book-pushing), especially since I read more than one book at a time. I'll share my thoughts, who recommended this book to me or what review spurred me to pick this up, and other thoughts that spring to mind!
The books I'm reading now are a little different to the books I shared in my previous post (and I'll briefly share my thoughts on the books I featured last week!) but, I'm quite enjoying them so far. But, I'll talk a little bit more about them in a bit! 
---
My thoughts on the books in my previous post
The King of Bourbon Street by Thea de Saile: I actually enjoyed this a lot – way more than I thought I would! The OTP is so precious and adorable, but had fantastic chemistry. I was warned that there would be a lot of sex in this book, and hooooboy, y'all didn't prepare me enough. 😂 But, if you don't mind or like erotica, this is such a wonderful book. It's amazingly written and I recommend it!
Chameleon Moon by Roanna Sylver: I am so sad that I didn't get to finish Chameleon Moon before I had to return it to the library. I found this book quite heavy (not in a bad way!) and lately my mood has gravitated towards lighter books. That's no fault of the book though, and I'm going to pick it up again when I'm not feeling too stressed and overwhelmed by university.
The Smaller Evil by Stephanie Kuehn: I ended up DNF'ing this book, and that's a rare occurrence for me. My thoughts on this book are here. In saying that though, even though I didn't like this one, I cannot recommend her other books enough. If you're interested in psychological thrillers (and please check up on tw's or ask me before reading!), try Complicit or Delicate Monsters.
And now, onto the books I'm currently reading!
---
SAINTS AND MISFITS BY S.K. ALI

Liking this so far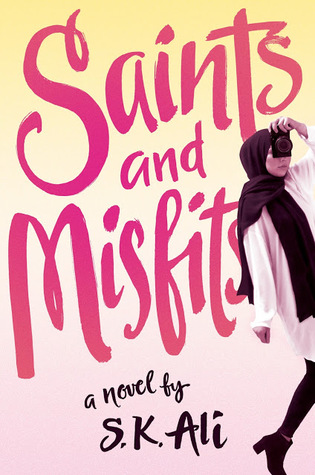 Genre: Young adult, contemporary
Recommended by: No one in particular!
What made me pick this up: I saw this everywhere on Twitter, so I recommended this book to be purchased at my local library – and they bought it!
Progress: 62%
My thoughts so far:
Overall, I'm liking this book so far. I love that this story is offering a nuanced glimpse of Janna, a biracial Muslim fifteen year old teen, and her life.
I like how this book discusses religion and faith as something that people figure out and navigate together, and the community aspect of it.
It also discusses sexual assault (this book has tw's for sexual assault and discussions of it), and the experience following it.
My only criticism so far is that, while every part of this book is superb, it doesn't have the cohesion and momentum to bring it up a notch. Some parts of the story feel a little disconnected from each other and indeed that's inherent in coming-of-age stories that explore a variety of topics, so, we'll see how it goes.
---
HEROINE COMPLEX BY SARAH KUHN
I can tell this is going to be my fave
Genre: Urban fantasy
Recommended by: I've seen Taryn praise this up and down!
What made me pick this up: I'm always here for superheroes.
Progress: page 99 of 376
My thoughts so far:
I'm enjoying this so so much so far. The voice and narrative is refreshing, the humour subtle and on-point, and the characters instantly likable.
I love Aveda Jupiter. I don't know if you know this, but sometimes I can be pretty dramatic and seeing Aveda being dramatic is hilarious to me. I also like Nate too, mostly because he's those awkward nerds (I really love awkward nerds?!) and he sciences and I science. Hey, hey!
It's still early days for me, but heck. I'm feeling this book. I cannot wait to read more. (Unfortunately I'm super slow at reading physical copies.)
---
FREEDOM SWIMMER BY WAI CHIM
Already has me wrapped around its finger
Genre: Young adult, historical
Recommended by: Aus YA! Thank you my Aussie friends.
What made me pick this up: I've been meaning to read this for a long time and am so glad I can finally read it.
Progress: 14% – still early days!
My thoughts so far:
I can tell this is the sort of book I'll love. I studied the Great Leap Forward and Cultural Revolution when I took Asian Studies in undergrad, but I'm glad that I'll finally be reading an own voices account of it.
I can also tell that this is the sort of book that will wring my heart. I cannot wait to read more.
The beginning is the kind that you will never forget. It was difficult to read, heartbreaking, and so sad. I'm curious to read more and see where the story will take me.
I titled this post 'from superheroes with superpowers and those that don't' because I'm predicting that this book will be about strength and courage. I think those are super traits in itself. In any case, I'm very excited to read more of Freedom Swimmer.
---
And that's it for today! Earlier in the month, I was reading five books at once and whilst I like reading multiple books at a time, five was getting out of hand. So I recently finished The Paper Menagerie, which I have reviewed and will share very soon, and also The Tiger's Watch, which I had mixed and tentative feelings about.
I'll also be sharing my #TheReadingQuest TBR sometime tomorrow or the day after! I've been given permission by Quest Mistress Aentee to have my own class, so I cannot wait to share that with you all.
Let's discuss!
So friends, what are you currently reading?
Are you enjoying the books you are reading so far? Not enjoying them so much? What are your thoughts?
What do you plan on reading once you finish your current reads?