Hello friends! How are you today? I'm pretty excited myself to share with you the first post of my new feature!
I love giving recommendations, and although I do have my monthly book recommendation posts, I also thought it'd be cool to do a feature where I tell you my current thoughts about the books that I am currently reading.
As the title suggests, What I'm Reading is where, every once in awhile, I'll share and tell you all about the awesome books that I'm currently reading (and engage in not-so-subtle book-pushing), especially since I read more than one book at a time. I'll share my thoughts, who recommended this book to me or what review spurred me to pick this up, and other thoughts that spring to mind!
To describe the three books I am currently reading, they're all books that are quite unlike anything I usually read or have read before. One is a new adult novel, one is a sci-fi (but is different to the others sci-fi worlds I've read!), and another has a very unreliable narrator and has bamboozled most of its readers (based on the Goodreads reviews). Moreover, it's nearly the end of the month and I'll be returning to university next week, so I'm trying to squeeze in all my reading before I have to go back.
So, without further ado, here are the books that I'm currently reading!
---
THE KING OF BOURBON STREET BY THEA DE SAILE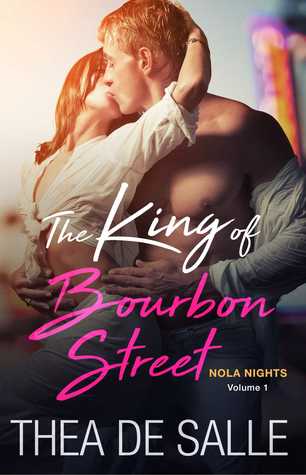 Genre: Adult erotica, romance
What made me pick this up: The high, high, high praises for this! And because I was… am(!)… curious. 😶
Progress: 20%
My thoughts so far:
The writing is fantastic. It's a little tongue-in-cheek, very sensual, and it's just beautifully written.
Look, I'm almost convinced now that all other erotica books and smut I've read before The King of Bourbon Street were terribly written.
I love the characters so far; the characterizations are lovely and I am really enjoying the fat rep.
Maybe I can't read this at any hour of the day, but I'm enjoying the characters and the writing so far.
---
CHAMELEON MOON BY ROANNA SYLVER
Genre: Young adult, science-fiction
Recommended by: Laura and Sinead
What made me pick this up: I've heard that not only is the rep in this book awesome, but that it was an amazing story too.
Progress: 5% – barely started!
My thoughts so far:
I picked this up and started reading this knowing absolutely nothing about the book. I was a little confused at first, but it gained its momentum relatively early on.
The characters are so intriguing so far. I don't know much about them, but I'm keen to learn more about them.
The writing is so atmospheric and so… immersive. I can't explain it! I know this is a world totally different to others I've read, but I'm really interested to see how it'll play out.
---
THE SMALLER EVIL BY STEPHANIE KUEHN
Genre: Young adult, psychological thriller(?), mystery
Recommended by: No one. 😅
What made me pick this up: I loved Kuehn's other books such as Complicit and Delicate Monsters so I wanted to read her latest!
Progress: 21%
My thoughts so far:
So far, I have to say that The Smaller Evil is Kuehn's strangest book so far. I mean, I'm proud(ish) to say that I got her other books, but I haven't quite figured this out yet. It's still early though, but I'm intrigued to see how this book will development.
The narrator (told in first person) is an unreliable narrator. I haven't read a book with an unreliable narrator in awhile, so I'm particularly interested to see how this will go.
At the moment… I'm guessing this is about a cult?? A scam?? I have no clue. It's all a little creepy though and I've yet to decide if it's a good-creepy or bad-creepy.
---
And there you have it! I'm not far in on any of the books I'm reading, but I'm pretty excited to read more – when I get a breather! I also finished Coffee Boy yesterday, which was such a great book.
Let's discuss!
So friends, what are you currently reading?
Are you enjoying the books you are reading so far? Not enjoying them so much? What are your thoughts?
What do you plan on reading once you finish your current reads?